One of my favorite things about being a food and fitness blogger is trying new products and sharing them with my peeps. Today, I invite you to "Give Peas a Chance!" More specifically, Hippeas™, a line of organic chickpea puffs that have me shouting "Power to the Peaple".
Hippeas™organic chickpea puffs are absolutely delightful.  All six flavors are yummy with something for every taste bud. Flavors include: Far Out Fajita, Vegan White Cheddar, Maple Haze, Pepper Power, Sriracha Sunshine and Happenin' Hickory. My favorites are the Far Out Fajita, Vegan White Cheddar and Sriracha Sunshine.
Bragging rights galore
Beyond being Certified Organic, these tasty little lovelies are gluten free, vegan, kosher, allergen free and non-GMO. Also, they have 3 grams of fiber, 4 grams of protein and just 130 calories in a one ounce serving.  I am wowed and know you will be too.
So, Why Chickpeas 
According to many experts, plant-based products hold a huge spot in the current market and expected to grow tremendously.  Our friend the chickpea is one of the shining stars in the industry.
Did you know that Chickpeas release nitrogen back into the soil?
For Farmers, growing this legume is giving back to Mother Earth. They are more affordable to grow than many other plants, taking minimal water, care and they grow pretty quickly.
Perennial chickpeas are also a fundamental source of nutrition in animal feed as they are high sources of energy and protein for livestock.
How HIPPEAS pays it forward
HIPPEAS believes that "tastes good" and "do good" are two philosophies that should go hand in hand – that is why they've partnered with Farm Africa, a charity working to end hunger and bring wealth to rural eastern Africa. For each pack sold, the brand will donate a portion of sales to support farmers in eastern Africa to grow themselves out of poverty, helping them build a more prosperous life for themselves and their families.    Courtesy of HIPPEAS™ and prnewswire.com
READY TO ENTER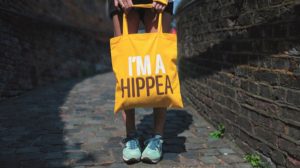 Enter to win a Hippeas reusable gift bag filled to the brim with Hippeas delicious snacks. Get excited, this gift bag has plenty to share with friends.
Simply follow the rules to enter below.
Contest Rules:
Follow us to Instagram http://bit.ly/2syUmXX
Like this photo on our page
Follow our page @mysagegourmet
Comment on this pic and tag a Friend
Use hashtags #mysagegourmet  and #hippeas_snacks
Easy chick-peasy. Winner will be announced on July 10th, Good luck from My Sage Gourmet
DISCLAIMER–As a food and fitness blogger, I often receive free samples to review but I am never paid for my opinions. The views expressed here are based solely on personal experience with the products and my interactions with the company's staff. Your experiences and sentiments may differ from my own.
https://www.mysagegourmet.com/wp-content/uploads/2017/07/NewLogo-1-599x319.jpg
319
599
Carol Takakura
https://www.mysagegourmet.com/wp-content/uploads/2015/10/logo.png
Carol Takakura
2017-07-01 13:34:00
2017-07-01 13:34:00
Give Peas a Chance