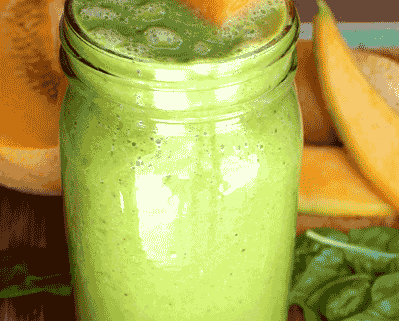 I am in love with summer fruits this year! Figs are always delish, as well are mangos, but I have to be honest, cantaloupe has never been a chart topper with me. I get bored with it very quickly and after a short while the taste doesn't float my boat. This summer however, that has changed. Oh baby, have I got a recipe for you.
This cantaloupe, mango and spinach smoothie with sprinkles of cinnamon is amazing. I am not sure why I never thought of this combination before. I am happy that I have finally found the perfect recipe. I love finding a good recipe and making it my own.
Before I trail off, I want to give a big delicious shout out to the origin of this recipe: incredible smoothies.com
Now on to the yumm!


Cantaloupe, Mango and Spinach Smoothie with Figs and Cinnamon
Recipe type:
Beverages; Breakfast
Ingredients
2 cups cantaloupe, seeded, cubed
3 fresh figs (I recommend using fresh organic figs in this recipe.)
The Juice of 1 freshly squeezed lime
4 cups fresh organic baby spinach
1 mango, peeled and pitted
1 teaspoon ground cinnamon
1 pinch of nutmeg (try freshly grating a bit straight from the nut-awesomeness!)

6-8 ounces filtered water (add less or more as needed to get the consistency you wish)
Instructions
Start by adding the liquid to your blender (I use a Vitamix), followed by the soft fruit.
Add the greens to your blender last.
Blend on high for 30 seconds or until the smoothie is creamy.
Notes
If fresh figs are not available, you can soak 2 dried figs by placing them in the blender first with the water and allowing them to sit for 15 mins or so. Dried figs tend to be sweeter, so you do not need 3 - it's sugar overkill, and that you don't need in this smoothie! Save that sugar fix for another time.
Nutrition Information
Serving size:
32 oz.
Calories:
342
Fat:
2g
Carbohydrates:
85g
Fiber:
12.1g
Protein:
8g
Use this smoothie as part of your workout power food
It is a meal-replacement smoothie and not a snack
Cantaloupe provides an excellent source of antioxidants, like vitamin C and vitamin A (in the form of carotenoids). They also contain important nutrients like potassium, folate, copper, B vitamins, vitamin K, magnesium, and fiber. Learn 4 reasons to eat them from Dr. Mercola
Figs, fresh or dried, figs are a significant source of both types of dietary fiber. Their soluble fiber contributes to satiety and promotes healthy blood sugar and cholesterol levels, while their insoluble fiber supports efficient digestion and bowel regularity. The potassium in figs helps keep fluids and minerals balanced in and around cells and throughout your body, which is essential to normal nerve, muscle and heart function. Figs are an excellent source of readily available energy, since most of their calories come from simple sugars. These sugars are naturally occurring, however, and the soluble fiber they come packaged with helps slow the rate at which they're released into your bloodstream.
Spinach provides structure to nearly every cell in the body, participate in chemical reactions, help repair and make new cells and are vital for proper growth and development. If you follow a diet rich in spinach, this vegetable can help contribute to your protein intake.
Mango fruit is rich in pre-biotic dietary fiber, vitamins, minerals, and poly-phenolic flavonoid antioxidant compounds. It is an excellent source of Vitamin-A and flavonoids like beta-carotene, alpha-carotene, and beta-cryptoxanthin. 100 g of fresh fruit provides 765 IU or 25% of recommended daily levels of vitamin-A. Mango is a good source of potassium. 100 g fruit provides 156 mg of potassium while just 2 mg of sodium.
https://www.mysagegourmet.com/wp-content/uploads/2015/10/Canteloupe-Mango-Smoothie.png
599
399
Carol Takakura
https://www.mysagegourmet.com/wp-content/uploads/2015/10/logo.png
Carol Takakura
2015-10-24 08:28:42
2015-11-14 06:05:28
Cantaloupe, Mango and Spinach Smoothie with Figs and Cinnamon