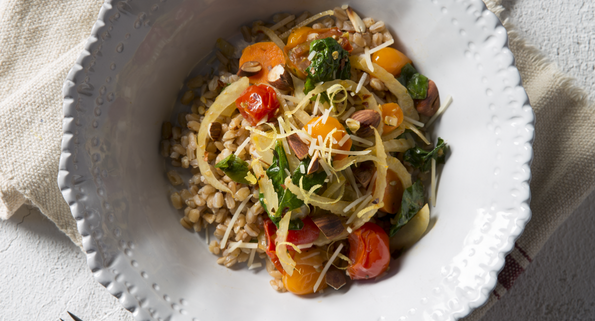 Farro is a type of wheat often referred to as an "ancient grain," that I would consider one the true healing foods. Enjoy this delicious plant-based dish with its lovely Italian twist
Author:
Jane Burnett, RD | Photo by Jennifer Olson | Delicious Living
Ingredients
2 cups uncooked farro
6 cups water
3 tablespoons extra-virgin olive oil, divided
4 cloves garlic (minced)
1 large fennel bulb (cut into ⅛-inch slices)
2 cups ¼-inch carrot slices (3 large carrots)
1 cup dry white wine
½ teaspoon fennel seed (crushed)
1 cup halved cherry tomatoes
Juice and peel of 1 lemon, divided
1 tablespoon dried, mixed Italian herbs
½ teaspoon salt
¼ teaspoon ground black pepper
1 (5-ounce) package baby spinach
¼–½ teaspoon crushed red pepper flakes
¼ cup snipped flat-leaf parsley
½ cup coarsely chopped almonds (toasted)
¼ cup shredded Parmesan cheese
Instructions
Rinse farro. In a large saucepan, place farro and water. Water should cover farro. Bring to a boil; then reduce heat and simmer until tender, stirring once or twice, about 30 minutes. Drain excess water.
Meanwhile, in a very large nonstick skillet over medium-high heat, heat 1 tablespoon oil. Add Garlic and sauté until softened, about 3 minutes. Add another 1 tablespoon oil, along with sliced fennel and carrots. Reduce heat to medium and cook, stirring often, until vegetables are crisp-tender and browned, 10–12 minutes. Remove skillet from heat, and add wine and fennel seed.
Return to heat, and cook until almost all the liquid has evaporated and tomatoes are tender, about 5 minutes. Stir in 2 tablespoons lemon juice, lemon peel, Italian herbs, salt and pepper. Remove from heat, and add spinach leaves; toss until spinach is slightly wilted.
To farro, add remaining 1 tablespoon oil, 1 tablespoon lemon juice, red pepper flakes and parsley; toss.
To serve, divide farro mixture among bowls and top with vegetable mixture. Garnish each bowl with almonds and Parmesan.
Notes
This recipe is being shared courtesy of
Delicious Living
Many thanks to the recipe author Jane Burnett,RD. Photo credit to Jennifer Olson/Delicious Living
Please visit the Delicious Living Blog today.
Nutrition Information
Serving size:
1.5 cups
Calories:
505
Fat:
21 grams
Saturated fat:
3 grams
Carbohydrates:
66
Sugar:
7
Sodium:
641
Fiber:
14
Protein:
16 grams
Cholesterol:
0
https://www.mysagegourmet.com/wp-content/uploads/2017/09/Italian-Herbed-Farro-Bowls-promo_Blogger_Network_9_17.png
335
595
Carol Takakura
https://www.mysagegourmet.com/wp-content/uploads/2015/10/logo.png
Carol Takakura
2017-09-13 15:21:38
2017-09-13 15:22:57
Italian Herbed Farro Bowls